Chiropractor in Northwest Houston | Dr. Erica O'Brien
First a patient, then a chiropractic assistant, now a chiropractor...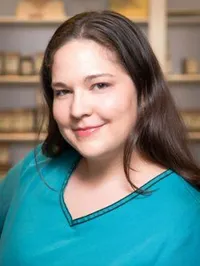 Hello, my name is Dr. Erica O'Brien. I was first introduced to chiropractic at the age of seventeen, after a 3-year long stint of off-and-on lower back and leg pain. My parents and I had previously explored several other avenues of treatment for my symptoms, with few lasting results or even temporary relief. After a few chiropractic visits, my body responded in a positive way to the treatments. When the nerves, muscles, bones, ligaments, and tendons were given the opportunity to work properly together, I finally got better, after years of sciatica!

Those first few chiropractic visits changed the direction of my life...
As I mentioned before, I was seventeen when I first sought chiropractic care. I was about to start my senior year of high school, and one of the most frequently asked questions of high school seniors is none other than—"What are your plans for the future?" At that point in time, I decided that I wanted to learn more about becoming a chiropractor, and I soon discovered that prerequisite courses were a requirement for chiropractic college. I soon enrolled in undergraduate studies with a focus on biology and other sciences, in preparation for my enrollment at Texas Chiropractic College.
I was fortunate enough to be employed by another Houston area chiropractor during my undergraduate studies, not for the sake of having a part-time college job, but because of how much I learned about what chiropractic can do for people. Chiropractic adjustments are helpful to conditions that extend well beyond lower back pain! During my years as a chiropractic assistant, I was able to witness the improvement of migraine headaches, shoulder injuries, organic conditions such as gastritis and sinusitis, and walking/gait issues (for example, several patients relied less on a walker or their cane—how great is that?). The opportunity to see people get better and live a better quality of life was one of the main things that empowered me to get through chiropractic school; I tried to remember that when I was feeling burned out or exhausted from the course load, and those memories of chiropractic success stories really did carry me through some exceedingly difficult years of chiropractic school!
During my last year of chiropractic school, I was a chiropractic intern, and I consulted with and treated patients under the supervision of an attending Doctor of Chiropractic. The opportunity to work at the Temple, TX Veterans Affairs hospital presented itself, and I completed a four week internship there prior to graduating. Additionally, I consider it a privilege to have worked with four groups of chiropractors in four different private office settings, and I have learned great things from each opportunity.
On a personal note...
In my spare time, I enjoy traveling with my family, spending time with my daughter Darcy, watching comedic shows and movies, going for walks in pretty places, and crafting (when my schedule permits!). I was a 4 year member of BNI (Business Networking International), which was an instrumental component of meeting people in my community with the intent of growing their businesses, and growing my chiropractic practice as well.
In November of 2016, my daughter Darcy (who was born May of 2015) was diagnosed with a neurodevelopmental disorder called Rett Syndrome. Her ability to walk, talk, and use her hands (fine motor skills/purposeful hand movements) are affected due to the fact that there are proteins in her brain that aren't made properly, which affects every muscle in her body. To read more about Rett Syndrome, please visit: http://www.rettsyndrome.org
I've included a short bit on Darcy's story on my professional website as a reaffirmation to my clientele -- Darcy's diagnosis was the most difficult and heartbreaking event my family and I have ever been forced to endure. I am so thankful for the support of my family, my friends, and my patients who have seen us through such a tough diagnosis. I am grateful for the ability to continue to serve patients at my own small business. Because I'm my own boss, I can continue to work, and take care of my child as she grows and develops at her own pace.
I can hardly wait to see what chiropractic can do for you.
The human body is amazing, and for the most part, it is self-sufficient. However, being that we seem to get busier and busier every day, our stress level goes up, while the ability to eat fresh, whole food goes down; work load increases as our activity level decreases….you see the pattern here.
Life is what you make of it -- and spinal health is no exception. Genetics play a SMALL role in how our bodies and spines function, but lifestyle and the choices we make every day are the biggest factors contributing to how we move around, how we feel, and how our bodies work. It is our goal at Affinity Chiropractic & Wellness to get each and every patient moving better and feeling better!
Factors such as stress, lack of quality sleep, sedentary lifestyle, processed foods, and pollution can tax our bodies into working at a mediocre level, or "survival mode", instead of having optimal body function. I have observed both personally and professionally that chiropractic care improves the way our bodies function—and who wouldn't want that? With that being said, I do get adjusted regularly, and I can honestly say that chiropractic is my first-line defense to whatever life is throwing my way. As far as I can see, being a chiropractor was my calling in life, and I consider my career a true labor of love for my patients. I can hardly wait to see what chiropractic care can do for you!
Ready to make an appointment? Give our Northwest Houston office a call today.